Testing and development of soybean breeding material for animal feed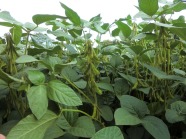 3 year project with the objective of implementation of small-scale breeding activities with particular focus on the quality traits early ripening, cold tolerance and protein yield
In the scope of the protein strategy of BMEL, the extension and improvement of soybean cultivation shall be enhanced by strengthening the private breeding sector. Thereby it is possible to support the production of domestic, GM-free protein feed. A new breeding program is set up at the state institute in collaboration with private Bavarian breeding companies. Together, methods for the selection of breeding strains regarding early maturity, grain yield, protein yield and cold tolerance will be developed, as well as a basis for a marker assisted selection.
Phenotyping and selection
Throughout the last three vegetation periods (2015-2017) more than twelve thousand crossing offspring were selected for significant breeding strains and afterwards compared to current varieties in the characteristics of yield, protein content and maturity. It was possible to identify (a certain number of) breeding strains reaching i. e. a high total yield at early maturity or a higher protein yield than current varieties. The developed breeding material got included into the breeding programs of the private partners and is to some extend prepared for variety approval.
Preparing molecular breeding tools
Molecular genetic analyses based on 6000 SNP-markers showed a low genetic diversity of the currently used variety panel. In contrast large genetic diversity of global gene bank accessions can be used as valuable gene pool for further breeding programs. Under the application of molecular markers, the elaborate phenotypic selection can be achieved more efficiently in the long term. The first step was already taken with the establishment and practical application of published markers for the characteristics of flowering and maturity.
Project information
Project leader: Dr. J. Eder
Project progress: Dr. C. Riedel, Dr. B. Büttner, Dr. G. Schwertfirm, S. Gellan, A. Jestadt, Dr. G. Schweizer
April 2015 to May 2018
Funding: German Federal Ministry for Agriculture and Food
Funding code: 14EPS028