Sustainable Agriculture in Bavaria


Bavarian State Research Center for Agriculture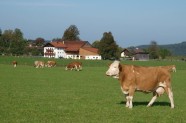 Researching, supporting, training
The Bavarian State Research Center for Agriculture (LfL) is the knowledge and service center for agriculture in Bavaria. The applied research of the LfL takes up issues of agricutural practice and provides applicable solutions for agricultural enterprises in various ways.
Overviewing the implementation of EU and national guidelines and programs as well as expert consulting complete our services and make the LfL an important partner for the Bavarian agricultural and food sectors.
Answers to key questions about the future

Like hardly any other industry, agriculture is under a constant challenge to provide answers to key questions about the future. The resource-saving production of high-quality and safe food for the entire population is still an immediate responsibility. The Bavarian citizens also attach great importance moreover value beautiful and varied landscapes and lively, attractive rural areas.
Agriculture is a viable, changing system which is linked directly to the Bavarian people's living conditions. In the long term, sustainable food can only be produced where quality, ecology and economy are brought in line. The LfL works at the intersection between this context of society and the economy.
Transfer of knowledge and solutions directly put into practice

With the LfL, rural agriculture has a partner who can realistically and independently analyse future prospects and can also, with its problem-oriented research, transfer knowledge and solutions directly into agricultural practice, politics, the economy and society.
The LfL makes a valuable contribution to the people of this country, and in a rather special way, is highly committed to this task for the common welfare of all parties concerned.